Wedding: Dress Distress, Part Five.
It was safe to say that I had just lost all confidence in my dressmaker. I really did my best to be a good sport and try not to show just how disappointed I was while I was with her. Losing control of my emotions wouldn't have made the situation better. During my drive home I filtered through my stages of grief and finally composed myself.
Well, just long enough to walk in the door and have Mr. Heatherland ask me how it went. Then I started crying again as I told him the tale: my long, weepy, mistaken-alteration tale.
After seeing just how upset I was, he gave me the best advice ever, "Buy another dress, something you love, and who cares how much it costs. Just find something else you want to wear."
There goes my budget!
I poured myself a big glass of wine…. Drank it…. Then poured another one…. Grabbed my iPad and brainstormed some of my favorite dress designers that possibly made bridal dresses or something that looked bridal to me.
After a few strikes, I went to the Tadashi Shoji website, which was a designer that I knew fit my body off the rack, and scrolled though the Winter collection and found this: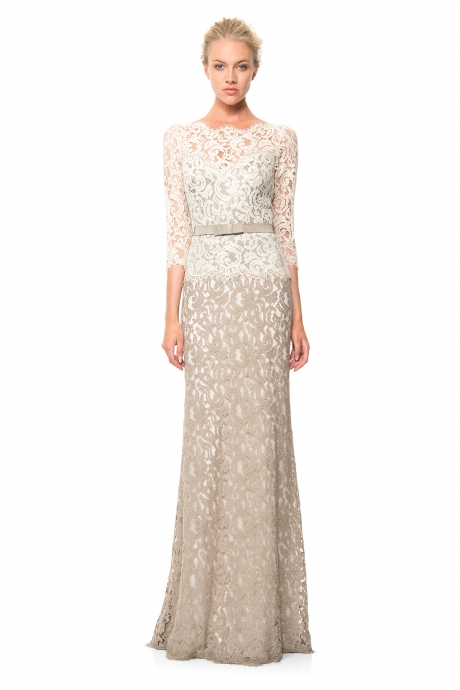 At $388 I added it to my cart and checked out within 60 seconds.
Then I scrolled through the new Tadashi designs that will be available in Spring, and I found this:

But since it was an up and coming style it wasn't available online. I called the Tadashi store in Las Vegas, spoke to a lovely woman named Sarah, who just received the dress I was inquiring about, but only in a size two. I figured it wouldn't fit, but she assured me that with my measurements it should actually fit fine since they run big.
So I bought it also, this one was priced at $408.
The first one came, it was pretty but the color through the bottom was much darker than I had anticipated and the waist would have needed to be taken in. So I packed it up and shipped it back.
The second one came a few days later and I loved it!
When I saw myself in the mirror I instantly knew this was a dress I could get married in.
I still needed to go to my follow up fitting with the dressmaker. It had been a week since I saw her, now two weeks before the wedding, and I was really hoping she worked miracles (considering I already bought shoes and a veil for it). When I got there the dress looked so much better than before and she found the bow!
But I still a wasn't loving the length. And she had started the lace top, but it just wasn't right. The lace had no texture, no interest, it looked dated and made me feel old.
At this point I no longer wanted to make this dress work. I lost interest. The backup dress I bought really was exactly what I was trying to get her to do. So in a long, round-about way, I ended up with what I wanted.
I decided to wear my back up dress, and I wouldn't be letting it out of my sight: no alterations, no pressing, nothing.