Postpartum Style Arsenal.
I was thoroughly warned that becoming a new mom meant everything in my life had to be on auto pilot for awhile.  That was a fair warning, the day our baby was born I officially had zero time or mental energy to devote to anything besides my him.
Since I had that pre-baby warning,  I had time to prepare.  I knew my beauty and style regime had to be altered to fit my new lifestyle, otherwise I would just be walking around looking like an train wreck… And when you feel like a train wreck, the last thing you want is to look like a train wreck!
I imagined a world where people said, "Wow… you just had a baby?  You look amazing!"  A girl can dream, right?
No Brainer Style
These have been my 6 favorite no-brainer items that I had in my arsenal from the beginning, I still use all six of these every day even at the 11 weeks postpartum mark.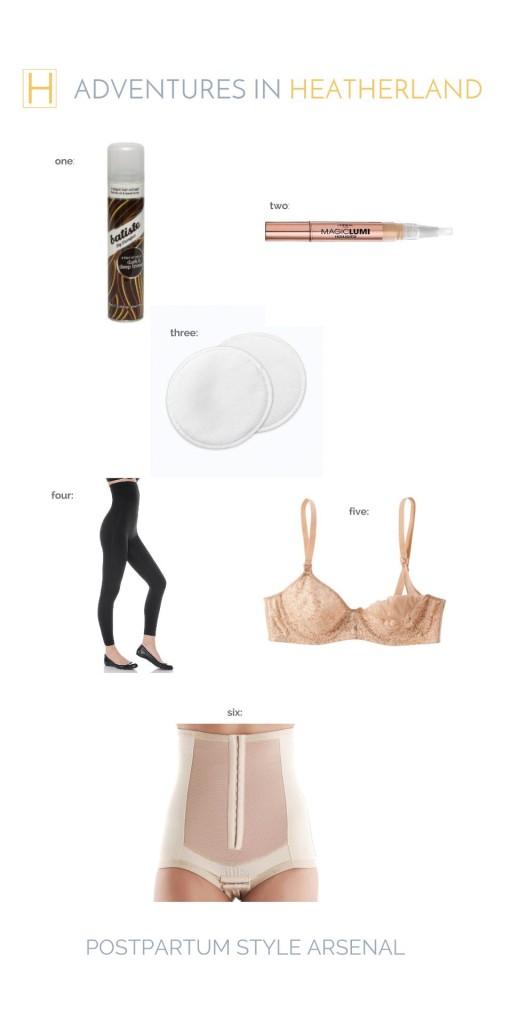 One: Dry Shampoo, because you know… even if you are a lucky duck that gets to shower every day, I highly doubt you're blowdrying your hair too.  Dry shampoo will be your best friend.  I love Batiste, because they make a formula tinted for dark hair.
Two:  Highlighting Pen is key for faking a good night's sleep.  This is less about what people think about you, and more about how you feel about yourself when you look in the mirror. I used to love YSL Touche Eclat, but now I'm pretty smitten with L'oreal Magic Lumi, it's a fourth the price and you can get it on amazon (and have it part of your subscriptions so it automatically shows up every month with your baby's diapers!).
Three: Washable Breast Pads.  Even if you're not breastfeeding, you're going to have some leakage.  I know the disposable ones might seem like a good choice but that is like a one-way ticket to Mastitis Town.  Every lactation consultant I encountered said the same thing: Anything going on leaky boobs needs to breath.  It's good advice.
Four: Spanx Leggings I've never been a Spanx girl, but these have changed my mind.  They've been like my secret weapon!  Before I could squeeze back into my jeans, I was in leggings everyday, and these Spanx ones have a nice high waist and are a true opaque black.  Love them and still wear them most days at home.
Five:  Nursing Bras, if you are breast feeding, I found these bras at target the most comfortable and easiest to use.  I'm an underwire girl, so these were like a dream.  Plus they are pretty.
Six: Postpartum Corset.  If you're crazy like me and wanted to not see any of that jiggle or wiggle of your belly, get yourself into a postpartum corset.  I will expand on this in a later post, but I am a huge fan of waist training, especially after having a baby.