I am no stranger to cooking classes.  Infact, I love taking them.  I usually prefer a hands-on class experience, but recently Mr. Heatherland and I went to the Stonewall Kitchen Cooking School and took one of their demonstration classes.
The facility itself is beautiful, tucked away in a gorgeous spot in York Maine, with stunning seasonal grounds to walk through, and a pretty impressive store.
Honestly, I was worried it would be a little boring sitting and watching someone else cook, but it was awesome.  I learned a lot of new things, the class itself had nothing to do with Stonewall Kitchen products (so it didn't feel like a sales pitch), and we were fed very well the whole time.  We both loved it and we're looking forward to taking another class there.
My favorite part of the whole day was the cocktail recipe, of course.  Hello, Ginger and Pear Bellini…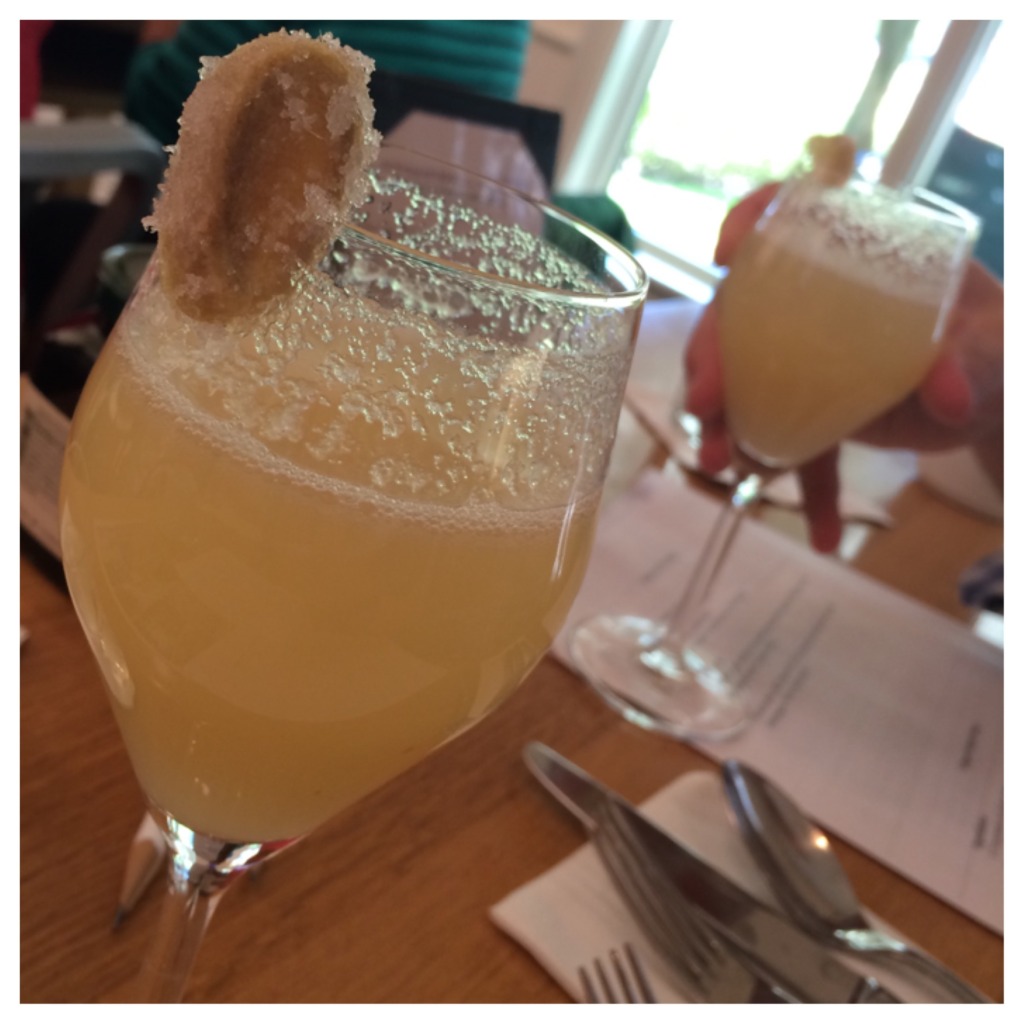 GINGER AND PEAR BELLINI
gather ingredients:
1/2 cup fresh ginger, peeled and sliced into medallions
1 cup sugar, plus a little extra
1 cup water
2 large pears, cored and peeled
3 Tbsp fresh lemon juice
1 bottle of dry prosecco
begin with a simple syrup:
Combine the ginger, sugar, and water together in a medium saucepan, bring to a boil and stir until the sugar dissolves.  Remove from heat, cover, and let rest for 30 minutes, then strain and reserve the liquid in a container to refrigerate.
*Simple syrup can be stored in the fridge for up to a month.
make candied ginger: 
The softened ginger pieces you just strained get lightly tossed in the extra sugar and laid out to cool on parchment paper.  These bits can be stored at room temperature for a month.
in a blender:
Puree the pears, then mix in 1/2 cup of the simple syrup and the lemon juice.
to serve:
This recipe makes four bellinis.  Each glass will get a spoonful of the ginger-pear mixture, then topped off with prosecco, and garnished with a piece of the candied ginger on the rim.
Oh, it's just heaven.  Thank you to Stonewall Kitchen Cooking School for the Ginger and Pear Bellini… I'm sure I will get a lot of use out of this fabulous cocktail recipe!