Preparing for your first baby can be overwhelming.  Raise your hand if you agree.  I remember getting a lot of advice like, "They don't really need much in the beginning besides you."  I knew it couldn't be that simple, but other than diapers, wipes, carseat, and stroller, what else did I really need?
I surveyed a lot of the mom's I knew, and asked them what their *absolutely necessary* products were during the newborn phase.  And man, did I compile quite a list of things.  I soon learned that even though the baby doesn't need much, moms really do.  I think we are all guilty of over buying (or over-receiving) for our newborns, it's very easy to do.
Now Lord Fussington is 12 weeks old, which means the "Fourth Trimester" is over and he's no longer a newborn.  But when I take a look around our home, I feel like we live in a baby store.  How did this happen? I tried so hard not to over-buy… Where did all this stuff come from and do I really use it?
If an expecting mom was to ask me what items were *absolutely necessary* to have at home for my baby in the beginning, this would be my list of things products.  Each one of these somehow made my life easier every single day of the Fourth Trimester:
Fourth Trimester Essentials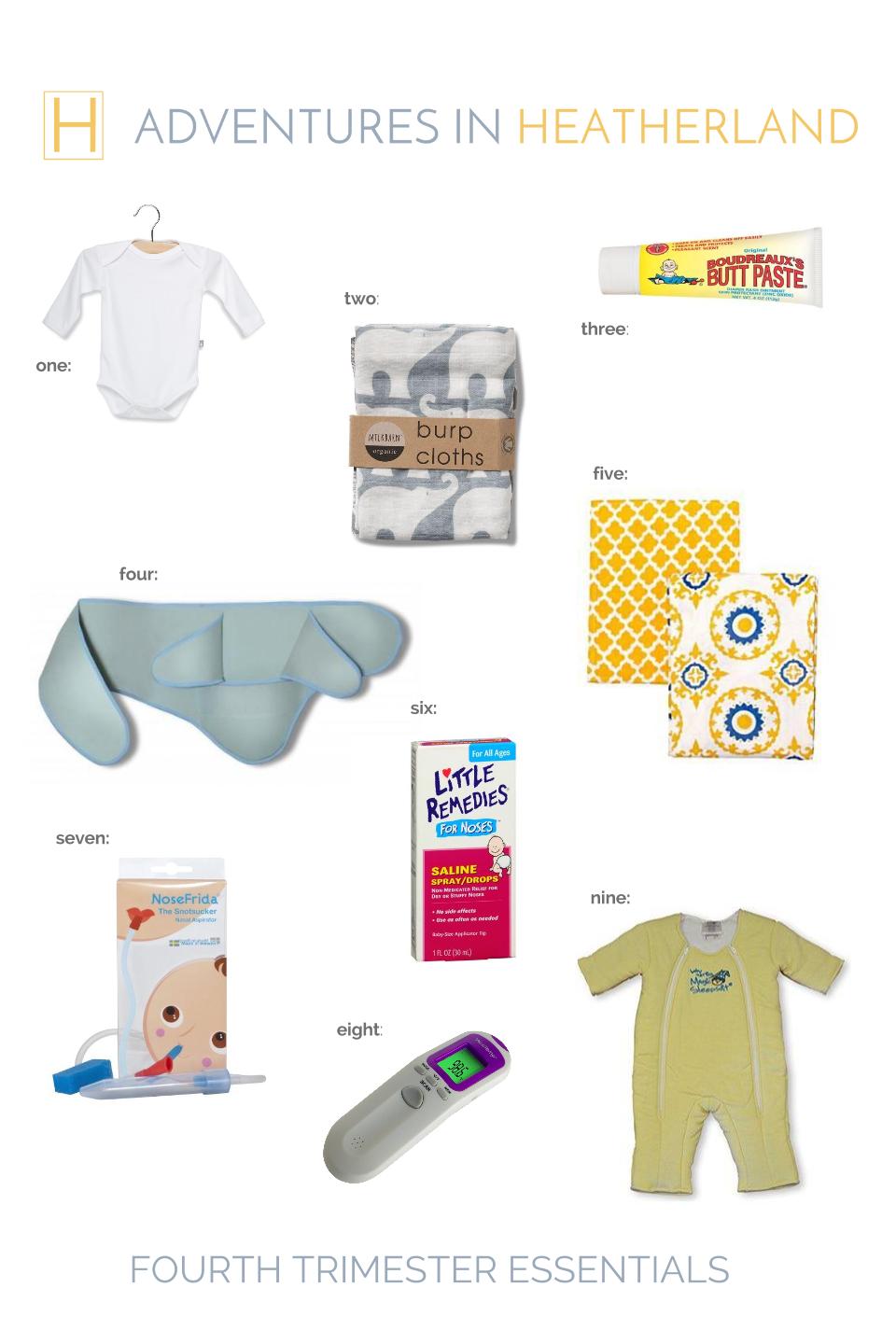 One:  Basic White Onesies ($5/each) I had about 10 of these.  They fit well, were easy to keep clean, and I do love the way a baby looks in a crisp white onesie!  He pretty much lived in them his first 4 weeks, then they were used for his pajamas.
Two:  Milk Barn Burp Cloths ($20/ 2pk) were a gift from a friend of mine and I LOVE them.  They are super soft, easy to wash, and the prints are so lovely.  I've actually started using them as sweat towels when I go to yoga mainly because I always have one with me.
Three:  Butt Paste ($11/3pk) is a fantastic product.  Lord Fussington has hardly had any diaper rash, but I think it's because I use a little of this proactively on a few spots that the diaper rub against.  It's unscented which I love.
Four:  Miracle Blanket ($30) is the best swaddle we tried.  I'm not so great a swaddling, so this made it foolproof, and he really can't break out of it.  It's like a little baby straightjacket, and worth every penny!
Five: Masala Swaddles ($35/2pk) are absolutely beautiful, super soft, and fabulously large.  I never used them for swaddles, but I did use them to lay down for the little guy to play on, as breast feeding coverups, and anything else that requires a lightweight blanket of sorts.
Six: Saline Drops ($8/2pk) are great for little stuffy noses.  I never respected that little babies get stuffy noses all the time and they aren't mouth breathers yet.  A few drops in each nostril and you are good to go.
Seven: NoseFrida ($11) is the grossest recommendation I got, in fact almost everyone recommended this.  I wasn't going to buy one, but then my sister in law included it in a gift for us.  And let me tell you… I love it.  So easy to use and really keeps the kiddo breathing easy.
Eight: VeraTemp Forehead Thermometer ($40) has been great.  A non-contact thermometer is not as accurate as the good ole' up the butt routine, but Lord Fussington sometimes feels warm to me, and I'm a paranoid new mom. This is a lot easier on him and me both to monitor his temperature with something non-evasive.  Then if I'm really concerned we can go the other route.
Nine: Magic Sleepsuit ($40) is amazing.  Love it, use it, I have sung it's praises before, and I sing them again.  I didn't start using this until he could break out of his swaddles and roll over, but it's still so great that I'm including it in this list.
There you have it. I wish I would have known that $200 is all it really should have cost us. I bought all sorts of other crap that I have been returning, exchanging, or still needing to sell.  Maybe my next list will be "$1000 of Useless Baby Stuff"…