My love for consumerism makes me I'm a sucker for three things:
1.  Freebies
2.  Free Trials
3.  Local Coffee Shop punch cards that lead to any free beverage of your choice
This post is about a wonderful free trial to Blue Apron my beautiful friend Thi Lihn sent my way.  Being pregnant has put a damper on food-related things for me.  Between the nausea, the heightened sense of smell, and the exhaustion, Mr. Heatherland has had to step up to the plate and started to flex his culinary muscles (otherwise we would both starve). Blue Apron is a meal subscription service company that delivers fresh ingredients and recipes to us weekly, saving us time and precious energy.

Thi Linh is a new mom, a talented artist, and a filmmaker.  Which means she has been adjusting to a whole new life with very limited time for things like making dinner.  She's been using Blue Apron with great results, and I took her endorsement to heart because she hates to cook, and if Blue Apron manages to get her in the kitchen then I thought it must be worth a shot.  Even though I love cooking, I hate grocery shopping, and I wanted to find a streamlined way to have Mr. Heatherland try new recipes with success.
The Investment
I did a quick comparison of the most competitive meal subscription service companies.  The heavy hitters are Blue Apron ($10 per meal, per person), Hello Fresh ($11.50 per meal, per person), and Plated ($12 per meal, per person).  All three companies are the same in concept, some have more flexibility than others, but at $60 a week for three dinners, Blue Apron is the most economical option.
THE MEALS
After I signed up I had a small pang of disappointment when I saw the meals that would be coming to me, my initial reaction was. "Meh, that's pretty basic".  But then I remembered it's not about having exotic or complex meals.  The point of this is to simplify our life and make dinnertime easy:
Organic, local ingredients cheaper than I could have sourced on my own
Mr. Heatherland can cook these meals on nights I get home from work late
Healthy, calorie proportioned servings
Simplify dinner decisions/shopping so I can focus on being a new mom
The fixed price helps streamline budgeting for weekly groceries
The Protocol
Signing up was a simple as it gets as there are only two options: 3 meals a week for 2 people, or 3 meals a week for 4 people.  I placed my order and the lead time was less than a week.  Then the first box arrived.  It's insulated and contains ice packs to help keep it cold if you can't be there to accept the shipment.  Inside are all the ingredients you need to create the three meals (everything except salt, pepper, and olive oil), and everything is wrapped and labeled.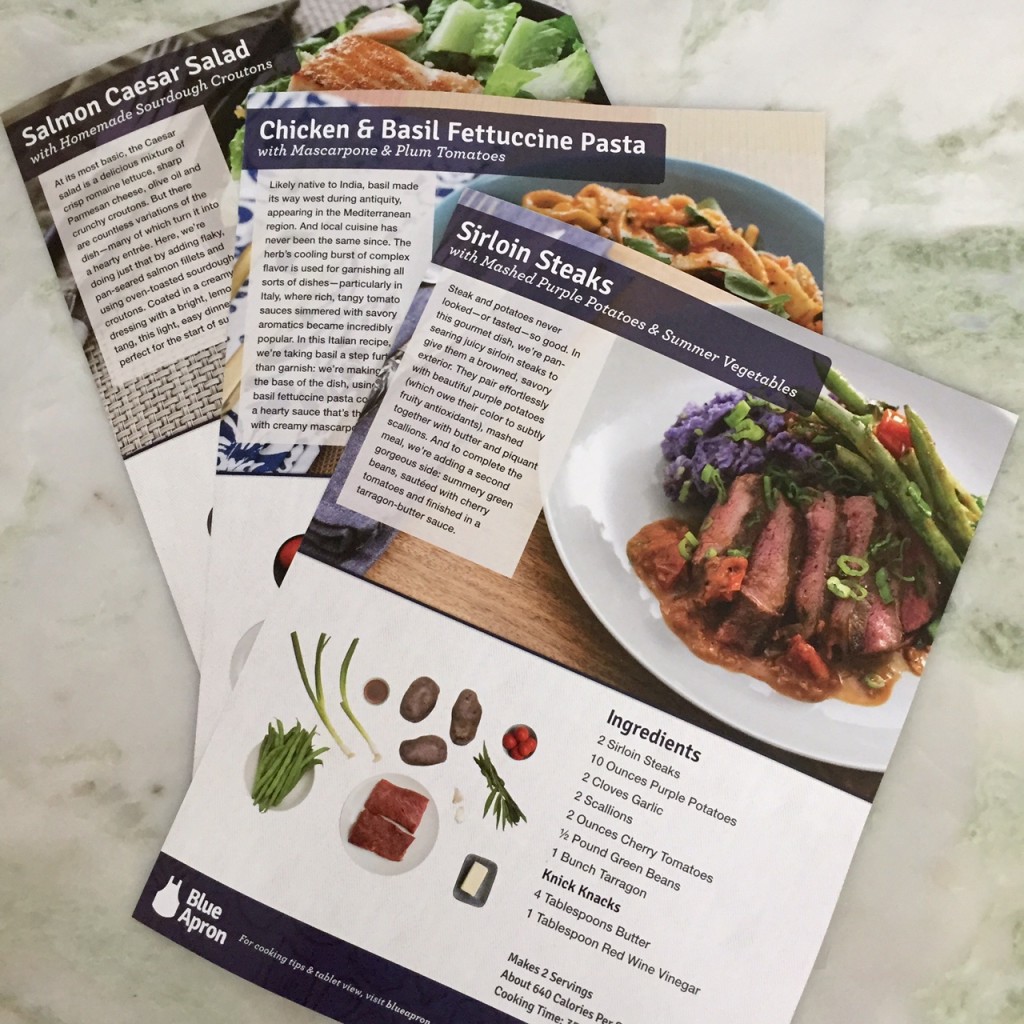 The recipe cards are each 6 steps and take anywhere between 25 and 45 minutes to prepare; however the timing really depends on your skill level.  The bonus is, they have a whole assortment of online tutorials to help you sharpen your kitchen skills.
The Verdict
I wish I knew about this sooner!  Even though I wasn't wowed by the menu, I'm wowed by the product.  And Mr. Heatherland is doing great with it.  Meal number one was Chicken and Basil Fettucini Pasta:
Meal number two was a very delicious and impressive Sirloin Steak dish:
Tonight we will have meal number three, a Salmon Caesar Salad.  We have all the fixings in the fridge waiting for us:
It is such a wonderful thing to come home after a long day and see Mr. Heatherland in the kitchen whipping together dinner.  Plus, on the days I don't work late we can cook these together.  Win-win. This is going to be a very good thing in our life.