I. Am. Obsessed.
My two-year quest for a miracle moisturizer may finally be over.  After countless dollars spent, and much trial and error, my new favorite ingredient is Hyalauronic Acid- Which surprisingly from rooster combs, did you know that?
No, no, no…. Don't worry.   I'm not running around like a mad woman decapitating roosters (yet).  My hyalauronic acid is lab-created and a key ingredient is my new favorite product,  Luzern Force De Vie Pure Oxygen Crème Intensive .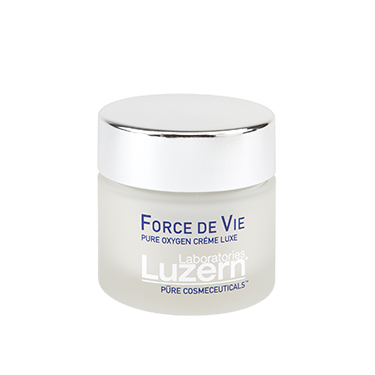 Hyalauronic Acid is not a new thing.  It occurs naturally in our skin, keeping it smooth and "plump" through its ability to hold up to 1,000 times its weight in water.  Skin begins to lose its ability to retain moisture as we age- and when we begin to lose elasticity, the lines and wrinkles appear.   Hyalauronic  puts back what is lost to bring back youthful looking skin.  It's also the main ingredient in fillers for lip injections, as well as used in supplements for joint disorders.
I've only been using it for about a month, but Luzern has already become one of my "must-have" products.  The skin around my eyes is finally looking hydrated and smooth, plus it has erased the huge "old lady wrinkle" down the center of my chest from being a side-sleeper.
I love this stuff.