Here you are, walking down the aisle at your local drugstore, and BAM!  Would you look at that… The fancy-pants shampoo you bought from your fancy-pants stylist is sitting on a shelf in a section called "Professional Hair Care".  When you quiz your stylist about it at your next appointment, you might hear the word "diversion" as part of the answer.  But what exactly is diversion?
 What is Diversion?
When it pertains to this topic, "Diversion" is meant to describe the sale of beauty products marketed as salon-only through stores that do not have a salon on the premise.  To enforce this distinction, products that are meant to only be retailed in salons will often times have a notice on their label stating so, for example:
"Available Only at Fine Salons and Spas" (Matrix, Redken, and Pureology)
"Sold Only in Professional Salons" (TIGI, BedHead)   
"Sold exclusively in professional salons" (Rusk)
"Guaranteed only when sold by a professional hairdresser, otherwise it may be counterfeit, black market, and or    tampered with" (Paul Mitchell)
"Guaranteed only when sold by an authorized salon" (Sebastian)
Each of the product lines mentioned above are heavily diverted to chain retailers and can be easily found in stores that do not have a salon on the premise.  In fact, they can all be seen in this picture taken at the CVS in Amesbury, MA. on the day this article was written:
Why should you care?
As a consumer, it all comes down to the quality of the product.  Stylists are in the business of making your hair healthy, manageable, and in the best condition possible.  Most stylists will agree that what you buy for your hair is just as important as where you buy it from.  In a nutshell, product diversion undermines a stylist's efforts.
But the more scandalous reason is misrepresentation of product.  Let's use a bottle of Pureology Shampoo as an example: Since that shampoo wasn't sold to the store directly from the manufacturer, there is no guarantee of what is actually inside that bottle.  It is unclear as to the source of these products, so who knows how old they are, where they came from, and regardless of what the product is, they all have a shelf life, and they do eventually expire.
But, Is It Cheaper?
Here's the kicker… These products are actually more expensive at a chain retailer than at an authorized salon.  It is usually about $5-$10 dollars more.  In our example of Pureology, the CVS in Amesbury was carrying four Pureology items this day:
Here is the Pureology Super Smooth Conditioner, 8.5oz size.  Please note the special barcode covering up its usual sku, all professional products that have made their way into any CVS will have an additional sticker on them with a unique sku.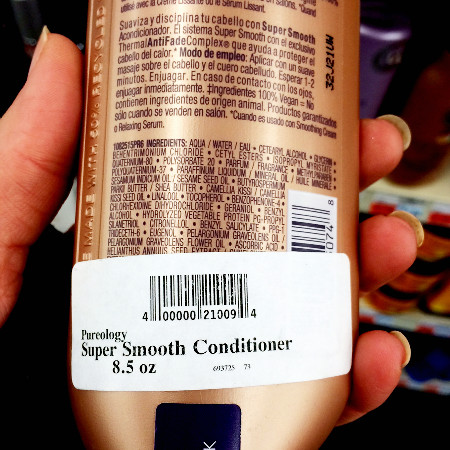 They are selling it for $34.49.  We called a salon the Amesbury area carrying the full line of Pureology products, and they are selling the same item for $29.
Support your stylist
If you love your stylist, just buy your product from them.  Here are three reasons to do so:
Guarantee: You've just spent 2 hours having your hair colored in the most beautiful, multi dimensional way you've ever seen- why wouldn't you want to protect that investment at home with your hair care?  The only way you stylist will actually guarantee their work is if you use what they tell you to use.  Not all shampoo is created equal, your stylist will let you know what to use to keep your color safe.
Education:  Typically the products a salon is retailing to it's clients also provides education to it's stylists.  Some lines have more perks than others, but your support of their retail will translate into additional education for your stylist.
Money:  Product sales account for a large portion of a salon's income.  While stylists aren't solely financially motivated by their product sales, they do make about 10% commission on each one.  Sometimes they have to meet additional requirements and markers in order to collect that commission, but at the end of the day making sales behind the chair is most definitely a part of their job.
Is diversion legal?
This would be a very gray area, with different answers given depending on how high up in the food chain you go with product manufacturers.  Here's what we know for sure:
Counterfeiting salon products is illegal.
Salons that liquidate their retail products to a drugstore or a box store are in breach of contract, and if the manufacturer can trace it back to them, there is a hefty fine to pay.
Manufacturers of salon products have publicly stated they are expanding their efforts to stop diversion- yet over the last 10 years diversion of salon products is more common than ever.
Either way, product manufacturers are getting paid for their goods at the salon level, and consumers are the ones potentially suffering from this if they are buying a less than stellar/over priced products at unauthorized locations.  So even if your beloved stylists doesn't have the professional product line you like to use, at least go to a different salon to buy it.  A store like Ulta would even be a better choice, since they do, in fact, have a salon on their premise.